One of the last clones to appear in the flash cartridge market has been the R4i MAX, a very stable cartridge that lets you run hundreds of homebrew apps to watch movies, listen to music, use the console in PDA mode or use your own homebrew games.
The R4i MAX has a very simple interface to use, fully configurable with skins to change the appearance.
Is compatible up to 1.4.5.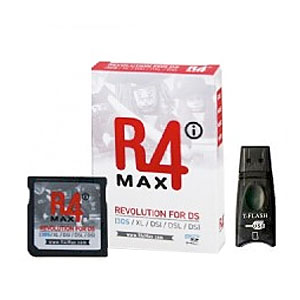 R4i Gold Features:
Compatible with NDS, NDS Lite, DSi, DSi XL, 3DS, 3DS XL, 2DS
Compatible with Nintendo DSi 1.4.5 and 3DS 9.8.0.25 (DS mode only)
Compatible with FAT16 and FAT32
Compatible with MicroSD and MicroSDHC card (up to 32GB)
Upgradeable Firmware
Simple menu (Multilanguage)
PassMe function: no need for passcard, compatible with Slot1-NDS, Slot2-GBA, Slot2-NDS etc ...
Includes operating system / GUI Menu completely controllable with stylus or buttons
Designed for low battery consumption
Multimedia functions: Moonshell 2
Supports DS sleep mode
We recommend the use of Sandisk cards for an optimal result.
Discoazul is not responsible for any use that may be made ​​of this product by the customer.